LinkedList NYC
Issue #78 - September 8, 2012
---
Hi Listheads,
The List is fascinated by all things New York. Today, we asked ourselves one of the important questions of our time: How long do stores stay in business? We didn't know, so we did a block census. We went into every store on 5th Ave between Degraw and Sacket in Brooklyn and asked how long the store had been open, what the building was previously, and anything else that popped into our heads.
We surveyed all 19 storefronts: five restaurants, two cafes, two corner markets, two vintage stores, two clothing stores, a dry cleaner, a massage parlor, a computer repair shop, a car service, a shipping store, and a church.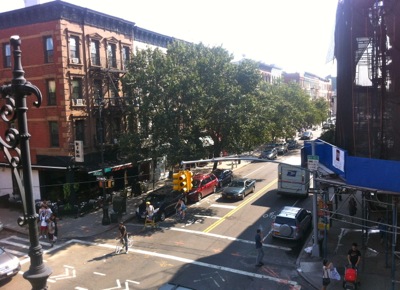 Looking south down 5th Ave from Degraw St
Here's what we found:
The mean store age is 5.7 years, with a standard deviation of 6.8 (mode: 2, median: 4)
The oldest continuously operating store is Arecibo car service, open for 27 years
The newest store is Impeccable Attire, which opened today
There's exactly one vacant storefront
One employee was "not in the mood" for our survey
The mean building height is 3.6 floors [Dave somehow finds this interesting. -Ed.]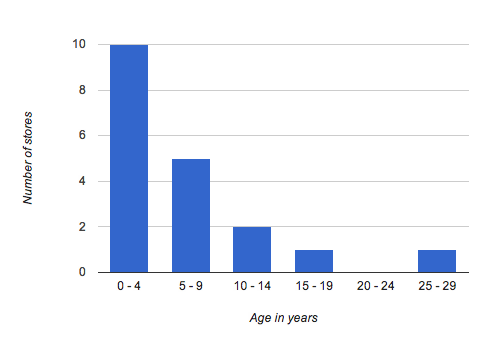 52% of the businesses have opened in the past 5 years, and 78% have opened in the past 10
Bodegas are always in demand: One has been in operation for almost 30 years (across three owners), and the other has been a grocery for at least 7 years (the current owners don't know how long the previous one was there)
George at Mailboxes on 5th told us that 88 stores between Degraw and Union have come and gone in the 17 years he's been in business.
Is there something you've always wanted to know about the city? Tell us, and the List's team of investigative journalists will consider your case.
Peace out, cub scouts.
Nick & Dave
P.S. We're still experimenting with different formats for the List. We have no idea what we'll do next week.
---
*|IFNOT:ARCHIVE_PAGE|* *|LIST:DESCRIPTION|*
If you don't want to receive the LinkedList anymore, unsubscribe.
*|LIST:ADDRESS|*