Wednesday, July 25, 2012 / Issue 76
· · · ·

50¢
---
Craig To Padmapper:
Drop Dead
Vows He'll Veto Any Improvement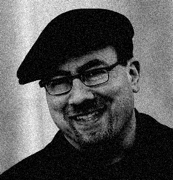 Craigslist's myopic founder
The classifieds giant made good this week on its threat to sue the one-man startup PadMapper, who it claims is unfairly making Craigslist's apartment listings easily searchable.
Craigslist contends that it's suing the small site to help improve users' lives, and denies accusations that it's simply trying to maintain its hegemonic position in the market by shutting down a competitor.
The harm PadMapper has caused apartment seekers appears widespread, with thousands of New Yorkers having happily used the site to find apartments in the city's notoriously cutthroat real estate market. The site has also harmed landlords by indexing and linking to their public listings, making them easier to find.
But if Craigslist has its way, future renters and the site's monopoly will be safe from PadMapper's structured data and thoughtful UI design.
As of press time, Craigslist continued to use HTML tables for its page layout.
---
Yahoo!'s Quag-Mayer
Can Marissa Explain It All?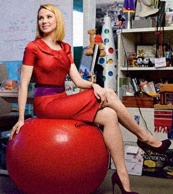 Good luck, Marissa!
Could upcoming changes at Yahoo! give the Internet giant a flickr of hope? Yahoo! announced last week that Marissa Mayer, who was previously Vice President of Search Products at Google, will take command of the sinking ship and try to last longer than its five most recent CEOs.
The bold move is a sharp departure from the firm's previous strategy of carelessly drifting into further irrelevance. "There is probably no better person on earth to light a user- and product-focused fire under Yahoo!," said one commenter.
By making the jump to Yahoo!, Mayer has effectively skated to where the puck will be, since the Google of a decade from now will likely resemble the Yahoo! of today.
---
Broken Sparrow
Indy Dev's Wings Clipped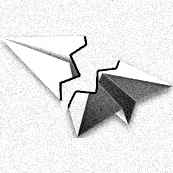 CRAACK!
A tiny sliver of the world threw a hissy fit Friday when the company behind Sparrow, the beloved iOS and OS X mail client, announced that its team was abandoning the product and joining Google. Word spread quickly, with hundreds commenting on Hacker News. "This is fairly devastating. I was really looking forward to the product's development, growth, and future releases," said rglover, an HN commenter frustrated by the announcement.
But not everyone was disappointed with the news. "As someone who doesn't use OS X or iOS, this is great news for me!" exclaimed w1ntermute, who, as an Android user, is presumably unaccustomed to having nice things.
Google did not confirm or deny rumors that the goal of the acquisition was to make their Gmail iOS client suck less.
Nick, Dave and Sonali spent way too much time on this. Share it! *|TWITTER:TWEET [$text=Headless Server in Cloudless Rack! Only in @LinkedListNYC!]|*
---
*|IFNOT:ARCHIVE_PAGE|* *|LIST:DESCRIPTION|*
If you don't want to receive the LinkedList anymore, unsubscribe.
*|LIST:ADDRESS|*