LinkedList NYC
Issue #74 - July 11, 2012
---
Hi Listheads,
We're trying something new this week: We've created a schedule for building a water rocket. There are two rules:
The only failure is not finishing
No premature optimization (this will help you finish)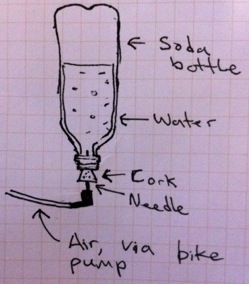 Water rockets are tremendous fun, and launching even the simplest one will give you a sense of accomplishment and child-like wonder. It's even better with friends. Now get building!
Tonight, 7/11
Go to the hardware store shop $5-35 9pm Not too far
You only need a few things to build a water rocket: An empty two liter soda bottle, some corks, a bike pump, and a few pump needles (the kind you'd use to inflate a basketball). The needles should be longer than the corks, and the corks should be big enough to seal the soda bottle tightly.
Saturday morning, 7/14
Build and launch your first rocket create 11am Wherever is convenient
Find a launch site. It should be an open space where there's no danger of breaking anything [Your block in Brooklyn probably doesn't qualify - Ed.]. You also need easy access to water to fuel your rocket.
Fill just under half your bottle with water. Attach the needle to the bike pump and push it through the top of the cork, making sure it goes all the way through and pokes out the bottom. Cork the bottle. It's important to pierce the cork before you cork the bottle. If you do it in the other order, you might push the cork all the way into the bottle.
Pump up your rocket until it launches! For best results find something to balance it on so it stays upright. A couple of bricks, boxes or woodblocks work well.
Make it better think 2pm Your mind
Now that you've launched your first rocket, it's time to make it better. Your first attempt likely only went a few feet in the air. How can you make it go higher?
Sunday, 7/15
Meet at Prospect Park outdoors 12pm Prospect Park, Brooklyn
The List will be in Prospect Park on Sunday launching rockets, and you should join us. Bring what you've built, and we can help improve each other's rockets. We'll get there early and tweet our location once we find a good one.
That's all for this week. Send jokes, tips, and rants to tips@linkedlistnyc.org.
Peace out, cub scouts.
Nick & Dave
P.S. Tonight is Manhattanhenge! Our favorite spot to watch is Tudor City Place.
---
*|IFNOT:ARCHIVE_PAGE|* *|LIST:DESCRIPTION|*
If you don't want to receive the LinkedList anymore, feel free to unsubscribe.
*|LIST:ADDRESS|*